heart.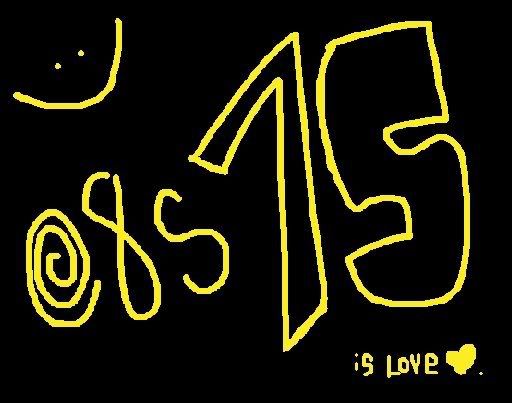 :D!
us (:
ms soh! lihong(hong) beatrice(beattie) chiaern estelle (eliz)abeth
fenglin (val)encia audrey enyi(m0kut0u) kyna faith
lijing jiayee pohting nicole shin yi(shiny) yingming
felicia(felly) jiahui jiamin(wee) jianrui liangsai(coolsh!t)
zhian(anzai) nicholas(nick) mingliang(oon) yuming (soon)
Thursday, 6 January 2011!
HandWritten on; 02:07
HAPPY NEW YEAR 75!
Hope everyone in singapore is doing well
And everyone overseas is doing good too!
HAVE A GREAT YEAR AHEAD EVERYONE! :))))
Wednesday, 1 September 2010!
HandWritten on; 11:16
HAPPY TEACHER'S DAY! :)
2 more weeks to MAF! See you there!
Hope everyone's still doing fine, eating well, sleeping well, living well.
Monday, 9 August 2010!
HandWritten on; 13:43
SCHOOL STARTS TMR SCHOOL STARTS TMR SCHOOL STARTS TMR
NOOOOOOOOOOOOOOOOOOOOOOOOOOOOOOOOOOOOOOOOO! :(
Who is going back for MAF? :)
Monday, 12 July 2010!
HandWritten on; 15:04
hello everyone (:
i just came back from sydney yesterday, was really tired but happy from an 11-day long trip, hit the bed and crashed out, missed the soccer finals (Spain won, I heard that the number of yellow cards given out was phenomenal ahahahaha though, must have been a very aggressive match!!); but besides all that, just wanted to say to kyna and estelle YOU GUYS ARE REALLY BRAVE (:
from the trip i realised how much i missed home, friends and family, church, the hot weather back and authentic SG cuisine (haha i grew sick of sydney burgers and pizzas urghh). so i really salute all of you going overseas to study. you guys, really. leaving the comforts of beautiful SG and the shores of warmth and the familiar.. made me realise how glad i am to be studying locally for the next 5 years really!
so here's some food for thought: cherish everything you have now, because you never know what you've got, till you lose it. seriously.
when else is who leaving for overseas hm? ): do give a shoutout yea! meanwhile take care everyone!!!!!
so see everyone on 31 JULY THANKS SHINY for organising!
love valoo
Saturday, 10 July 2010!
HandWritten on; 22:11
75 classouting after a LONG LONG LONG TIME!
31 JULY 2010 (SAT)
2PM MARINA MRT
DETAILS CHECK YOUR PHONE/FB :)
Wednesday, 23 June 2010!
HandWritten on; 12:51
Hello guys!
Kyna here, posting from Vancouver, Canada. The land of maple leaves, ice hockey and justin bieber.The coldest temperature here is 20 degrees celsius which is very cool literally, free air-con. Just wanted to tell y'all that I will be attending school here @ the University of British Columbia.
Anyway, here's wishing you guys all the best for University and life, try to have fun. (Yeah and the guys who are in NS ... it sounds rather like a necessary evil of life sigh.) Anyway, you people seem set to succeed in the courses you are taking, motivated bunch.
ALL THE BEST & Peace out!
Friday, 4 June 2010!
HandWritten on; 00:09
Heyhey I'm not sure if this blog is still active or if anybody still reads it but I just wanted to say that I'LL MISS THE CLASS OUTINGS and all of you. All the best you successful people! Hopefully facebook doesn't crash or shut down and we'll all keep in touch.
<3 Estelle Ith
Monday, 24 May 2010!
HandWritten on; 21:20
Hi class! I feel super proud of myself that i still remember the password :) (yesyes please clap for me :))
ANWWWWW
If you're super bored or need some exercise, follow the vid below :)
HAVE FUN! hope all of you are still doing well :)
Sunday, 9 May 2010!
HandWritten on; 12:21
hello all anzai here i'm here to attempt to revive this blog!
so everyone whos here just log on and update about ur life. like what uni u got accept into, which scholarship u're taking up hows life so far and anything you wanna say!
so yup i'll beging
i checked online and found out i got into NUS archi (HEHE happy me) and scholarships so far not yet cos URA kinda kept my application for next time since i'll only start uni in 2012 (i'll be dead by then i think zz) okay so yea
ns is extremely fun and i hope u sense my sarcasm, but i cant really complain since its quite umm not-taxing. cant reveal much here later mindef charge me i die =/
so take turns updating people if you need the id and pass email me at valientx@gmail.com
andand what ever happened to the movie outing by val/shinyi update what u all did here leh!
Tuesday, 2 March 2010!
HandWritten on; 20:02
HEY PEEPS! SEE YALL ON FRI! :)
Friday, 5 February 2010!
HandWritten on; 22:47
HAPPY BIRTHDAY JIAMIN! :D
Monday, 18 January 2010!
HandWritten on; 23:03
HAPPY BIRTHDAY JIAH (:
Saturday, 9 January 2010!
HandWritten on; 17:37
hello dear seven five!!!!
Hope time has been well spent so far!
we're all itching for our classouting since the last time it was postponed....soooo
tentative class outing: 29th or 30th JAN :D miss you all! haven't seen you guy for soooo long. (:
Venue: shinyi's house
Timing: evening, 6pm
What: STEAMBOAT DINNER. plus LATE NIGHT MOVIE and SLEEPOVER (for those who can :D)
okay please watch this space for more details, will sms you guys as well :D
<3 val
Friday, 1 January 2010!
HandWritten on; 00:59
HAPPY NEW YEAR 75! :)
How are all of you doing now? Hope you'll have a fantastic 2010!!
WE MUST MEET UP OFTEN OKAY!
Miss you guys!
Thursday, 3 December 2009!
HandWritten on; 23:07
CONGRATS TO THE END OF ALEVELS :)
Thanks to a COOL individual,
we immensed ourselves in ICECREAM. loads and loads of icecream! :)